Ultimate Instagram Settings Menu
After you have installed and activated Ultimate Instagram you will see the Ultimate Instagram  menu item on the left side menu panel in wordpress admin page. Ultimate Instagram Settings page has all the settings you will need to customize the Ultimate Instagram.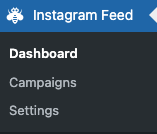 Here you will see the plugin overview, include the guide to add your first campaign, and how to manage your campaigns list.
This section will list all you already added campaigns, with the actions you can delete, publish campaigns.
Here is the section that you can connect to the available apps via their API here and activate them to collect data from third party apps.